1)Levi Strauss. Digital image. Biography. A&E Television Networks, 3 Oct. 2014. Web. 24 Apr. 2017Levi Strauss and Jacob Davis
Levi Strauss
Levi Strauss was born February 26, 1829, in Buttenheim, Bavaria to the parents of Hirsch Strauss and Rebecca Haass Strauss2)Lynn, Downey. Levi Strauss: The Man Who Gave Blue Jeans to the World. Boston: University of Massachusetts Press, 2016. He grew up with three older sisters and three older brothers as well. His family moved to New York in 1846 once his father was diagnosed with tuberculosis two years prior.3)Ibid., Once his family migrated into New York, they met up  with two of Levi's eldest brothers who owned a NYC-based wholesale dry goods business that was called "J. Strauss Brother & Company". Soon enough, Levi became a part of the family business.4)Ibid.,
When the era of the California Gold Rush migrated to the east, Levi made the decision to travel to San Francisco in 1853 in order to gain success within a business. So he created a wholesale dry goods business that was written in his name and became the west coast representative of his family's New York Business. Therefore, he decided to rename the company "Levi Strauss & Co."
In 1871, Levi got a letter in the mail from a customer who was a Russian Immigrant and tailor. 5)Levi's Corporation. "Our Story." History of Jeans   http://www.historyofjeans.com/jeans-inventor/jacob-w-davis/ The immigrant was named Jacob Davis and he had a business proposal that he wanted to know if Levi would want to collaborate on it.6)Ibid., Davis's plan was to patent and manufacture new pants. Together, Levi and Jacob applied for a patent on the process of making new work trousers. Luckily, on May 20, 1873, both men were granted permission to make the first blue jeans.
Levi accomplished other business opportunities during his career. In 1877, he became a charter member and treasurer of the San Francisco Board of Trade. Moreover, he was a director of the Nevada Bank, the Liverpool, London and Globe Insurance Company and the San Francisco Gas and Electric Company. In 1875, he purchased the Mission and Pacific Woolen Mills.
Levi was also a man who try to give back to his community as much as possible. He was a huge supporter of the Pacific Hebrew Orphan Asylum and Home, the Eureka Benevolent Society and the Hebrew Board of Relief. He also enjoyed assisting with student scholarships at University of California.7)Levi's Corporation. "Our Story." Levi Strauss.http://www.levistrauss.com/our-story/.
Levi Strauss died at the age of 72 on September 26th, 1902 (2). Levi never married and never had children. Therefore, he left his company to his nephew Jacob Stern, who took over as company president. 8)Ibid.,
Jacob Davis
Jacob Davis was born in 1831 in Riga, Latvia.9)Ibid., In 1864, he came to America and operated a tailor store in New York City and Augusta Maine. 10)Ibid., In 1856, he moved to San Francisco and then moved to the gold country town of Weaverville as a tailor employer. Later in 1858, he moved from California to western Canada. In 1865, he married Annie Parksher and raised six children with her. Before invention the jeans with Levi Strauss, his main occupation was being a tailor. 11)Ibid.,
In 1869, he opened up another tailoring shop on Virginia Street. In the store, he made wagon cover and tents. 12)Ibid.,  A year later, a customer came into the shop asking for a pair of cheap pants for her husband because he was too overweight to wear loose pants.13)Ibid., Therefore, Davis created pants that  had copper rivets that he applied on horse blankets and he used them to tighten the pockets so that they wouldn't tear easily. 14)Ibid.,  These kinds of pants became extremely popular and many people in the area started to purchase these pants. 15)Ibid.,  Davis began to sell up to 200 pairs within 18 months of inventing these pants. However, Davis started to develop a fear that another inventor would steal his idea, so he reached out to Levi Strauss to help him make new pants. Levi agreed to help Davis and on May 20, 1873, they got approved to make the new blue jeans. 16)Ibid.,  Davis even became project manager for Levi's company store.  Jacob Davis worked for Levi's company until the end of his life. Jacob Davis died in 1908 in San Francisco. 17)Ibid.,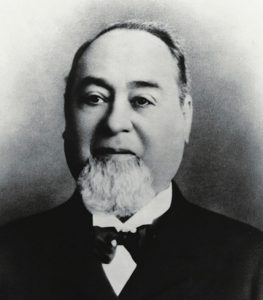 18)Jacob Davis. Digital image. Pinterest. N.p., n.d. Web. 24 Apr. 2017.
| | | |
| --- | --- | --- |
| 1. | ↑ | Levi Strauss. Digital image. Biography. A&E Television Networks, 3 Oct. 2014. Web. 24 Apr. 2017 |
| 2. | ↑ | Lynn, Downey. Levi Strauss: The Man Who Gave Blue Jeans to the World. Boston: University of Massachusetts Press, 2016 |
| 3, 6, 8, 11, 12, 13, 14, 15, 16, 17. | ↑ | Ibid., |
| 4, 9, 10. | ↑ | Ibid., |
| 5. | ↑ | Levi's Corporation. "Our Story." History of Jeans   http://www.historyofjeans.com/jeans-inventor/jacob-w-davis/ |
| 7. | ↑ | Levi's Corporation. "Our Story." Levi Strauss.http://www.levistrauss.com/our-story/. |
| 18. | ↑ | Jacob Davis. Digital image. Pinterest. N.p., n.d. Web. 24 Apr. 2017. |