Beginning at the turn-of-the-century, companies began to take note of the success of jukeboxes as cheap forms of entertainment in bars, saloons, restaurants, diners, movie theaters, and even brothels. [1] Eventually, these most prominent companies become known as the "Big Four" in jukebox manufacturing,
Wurlitzer
An early company that took note of this growing new market was Wurlitzer. The turn of the century, Wurlitzer, a German company, was already diversified in the music industry. Wurlitzer was founded by Rudolph Wurlitzer in the 1800s.
Rudolph Wurlitzer is pictured below:
While the company got their start in the 17th century, they became prominent in the United States when they manufactured drums and other instruments for the US military. At the end of the 19th century, Wurlitzer began making coin-operated, or "player" pianos. These pianos were popular for a number of years before the company began manufacturing jukeboxes.
By 1909, Wurlitzer's son, Farney, pictured below, took over the company.
Wurlitzer manufactured their first coin-operated phonograph in 1933, right around the time of the repeal of prohibition. By 1937, Wurlitzer had sold over 100,000 phonographs – soon to be known as "jukeboxes." Until the switch from the 75 rpm to the 45 pm record, Wurlitzer dominated the jukebox business, with jukeboxes that could hold up to 24 records. Wurlitzer's greatest competition was Seeburg, who would be the first to introduce the true 100-record capacity jukebox. [2] Paul Fuller, a designer at Wurlitzer, created the iconic design of these jukeboxes.
The company produced player pianos, their first "modern" venture artifact through their purchase by the Baldwin Piano Company in 1985. From that point forward, the brand would change hands and face a rocky number of final decades until their eventual downfall in 2016. [3]
2001: The Gibson Guitar Corporation purchases Wurlitzer
2006: Gibson purchases Deutsche Wurlitzer GmbH
2013: Deutsche Wurlitzer GmbH files for bankruptcy
2015: Bankruptcy proceedings begin for the company
2016: Bankruptcy is implemented, signaling the downfall of Wurlitzer after nearly four centuries of operation
Seeburg
Swedish-born Justus P. Seeburg also got his start in the jukebox industry through the manufacture of player pianos, until manufacturing his own player piano in 1907. In 1928, Seeburg would become the first manufacturer of the "Audiophone" featured that allowed for multiple records to be selected in one jukebox, as well as a video featured that made the machine into a hybrid of a nickelodeon and a jukebox.
J.P. Seeburg is pictured below:
Seeburg would continue to invent a variety of phonographs and jukeboxes into the 1930s that enjoyed moderate success, however, their biggest impact on the jukebox industry was the creation of their beautiful and flashy jukeboxes in the post-war period. This success can be attributed to the shift from company management from J.P. Seeburg to his son, Noel Seeburg. [4]
As stated in the section on Wurlitzer, Seeburg posed a major competition for Wurlitzer when they created a jukebox that was capable of selecting from 50 records – or 100 sides worth of music, as well as their ability to quickly adapt to the introduction of the 45 rpm record. This meant that a listener could select from up to 100 songs on any given jukebox. [5]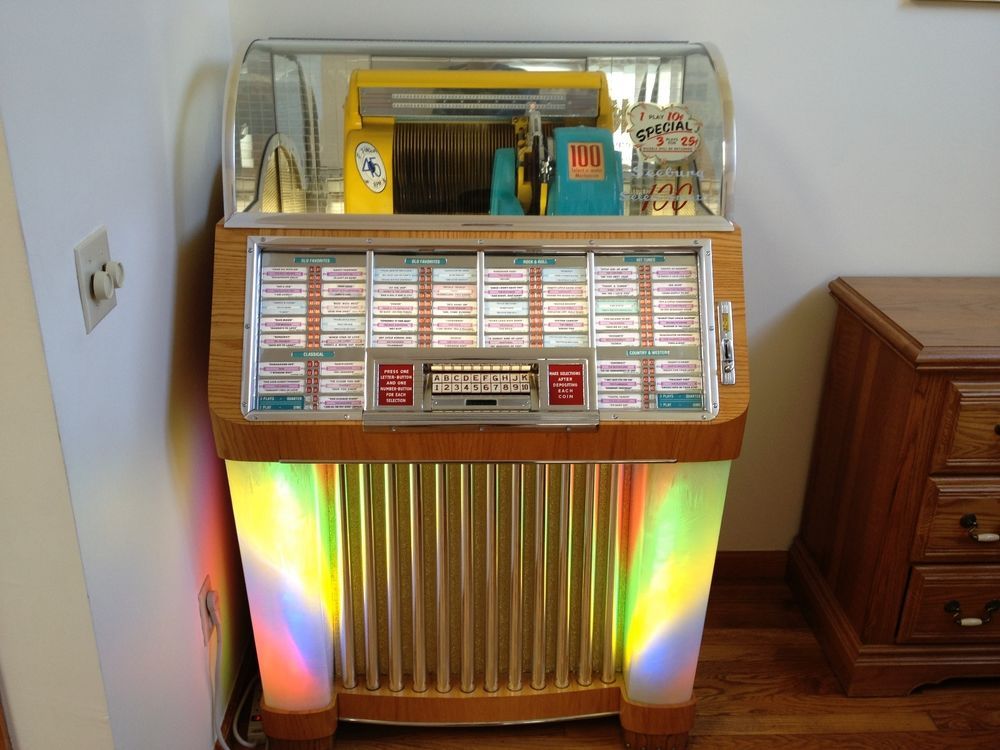 Also notable about Seeburg was their production of the "wallbox" jukebox, a small type of jukebox that could sit on the table of a restaurant or diner, allowing for guests to select a song from their table – therefore heightening the individual selection already afforded to listeners by the jukebox. [6]
Rock-Ola
In 1887, David Colin Rockola (yes, that is where the name "Rock-Ola" comes from!) was born in Canada. After working in the cigar business for a number of years, Rockola moved to the United States and took a job with the Chicago slot machine manufacturer O.D. Jennings & Co. By 1927, Rockola would quit the company after purchasing 200 slot machines, which he would use to start a profitable business venture that involved a variety of coin-operated machines, including pinball games, with a variety of partners. [7]
David Rockola is pictured below:
In 1935, Rockla would produce his first jukebox with a selection mechanism that was seen as a threat to Wurlitzer in the same way that Seeburg was. Their mechanism allowed them to select from a wide number of records. After Wurlitzer filed a failed $1 million lawsuit against Rockola in the late 1930s, Rockola would begin to introduce even more successful jukeboxes, pausing to produce telephone-line music transmission systems during World War Two. After the war, Rock-Ola was most known for their 1422, 1426, and 1428 models. [8]
AMI/Rowe
AMI got its start in 1909, the same year as the famed Copyright Act, as the "National Automatic Music Company." Like Wurlitzer, they entered the jukebox industry making player pianos. AMI, originally known as Rowe Manufacturing Co., was founded by William Rowe.
After World War Two, the company abbreviated its name simply to "AMI," and would become AMI/Rowe in 1962 when they were bought by the Automatic Canteen Company, who merged AMI with their existing ROWE AC Services subsidy – a brand that manufactured coin-operated vending machines. [9]
Today, AMI/Rowe is one of the remaining few jukebox producers.
Key Takeaways
Improving Upon the Jukebox and Producing Recognizable Machines
The "Big Four" jukebox manufacturers all enjoyed success during the height of the jukebox industry due to their ability to improve upon the jukebox in their own ways, as well as their ability to produce aesthetically-appealing, recognizable jukeboxes.
Entering the Industry: Commonalities
Each of the "Big Four" companies entered the industry either because they were already involved with the music industry, such as with Wurlitzer's long history of music production, or because they were in a field that utilized important jukebox components, such as Rock-Ola's history with slot machines.
Seeking Profit and Capitalizing on Trend
While all companies seek profit, jukebox manufacturers in particular made their name in the industry because they saw a niche in the rocky music industry of the early 20th-century that needed to be filled.
Today, very few jukebox manufacturers, even those outside of the "Big Four" still exist. While a few manufacturers still produce classic jukeboxes, or rather, modernized, digitized jukeboxes, these companies are nowhere near the level of success that they experienced in their respective heydays. In many ways, the history of jukebox manufacturers is a history of companies' abilities to capitalize and improve upon growing trends within popular culture.
Notes
[1] Kerry Segrave, Jukeboxes: An American Social History (Jefferson, N.C.: McFarland. 2002), 22.
[2] Kerry Segrave, 24.
[3] American Jukebox History. "Wurlitzer- History" Accessed October 29, 2019. http://www.jukeboxhistory.info/wurlitzer/history.html#history
[4] Kerry Segrave, 34.
[5] American Jukebox History. "Seeburg – History" Accessed October 29, 2019. http://www.jukeboxhistory.info/seeburg/history.html#history
[6] Ibid.
[7] Andrew Clayman. "Rock-Ola MFG Corp History" (Made In Chicago Museum, 2019) Accessed October 29, 2019. https://www.madeinchicagomuseum.com/single-post/Rock-Ola
[8] Ibid.
[9] AMI. The Facilities of AMI Incorporated, (Walker B. Sherriff Company: Chicago, Illinois, 1949) Accessed October 29, 2019. http://www.jukeboxhistory.info/ami/history/facilities_of_ami.pdf